Social Media
Social Media Apprentice / Internship Position
(Volunteer Position)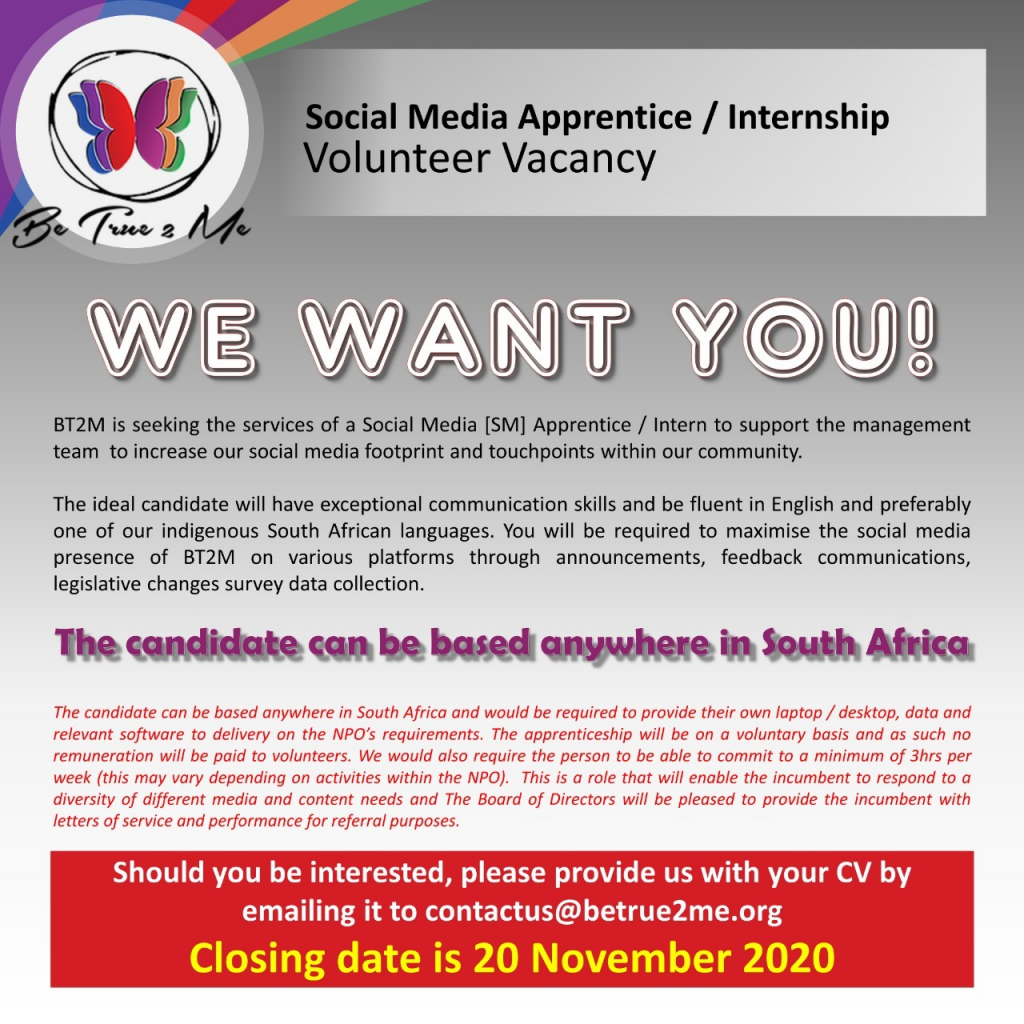 BT2M is seeking the services of a Social Media [SM] Apprentice / Intern to support the management team to increase our social media footprint and touchpoints within our community.
The candidate will be invited to management meetings to form part of the core communications strategy.
The ideal candidate will have exceptional communication skills and be fluent in English and preferably one of our indigenous South African languages. You will be required to maximise the social media presence of BT2M on various platforms through announcements, feedback communications, legislative changes survey data collection.
The role will require the following:
Market Be True 2 Me on all major social media platforms, mainly Facebook, Twitter, WhatsApp and Instagram
Explore other SM platforms such as Tik Tok
Coordinate with other volunteers to make media content to share on SM
Assist in setting up and running adhoc surveys within the community
Produce media for the platforms and assist with production of content
The candidate can be based anywhere in South Africa and would be required to provide their own laptop / desktop, data and relevant software to delivery on the NPO's requirements. The apprenticeship will be on a voluntary basis and as such no remuneration will be paid to volunteers. We would also require the person to be able to commit to a minimum of 3hrs per week (this may vary depending on activities within the NPO).
This is a role that will enable the incumbent to respond to a diversity of different media and content needs and The Board of Directors will be pleased to provide the incumbent with letters of service and performance for referral purposes.
Should you be interested, please provide us with your CV by emailing it to contactus@betrue2me.org