OUR NEEDS ARE ESSENTIAL – Part Three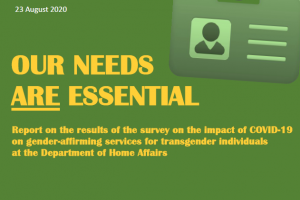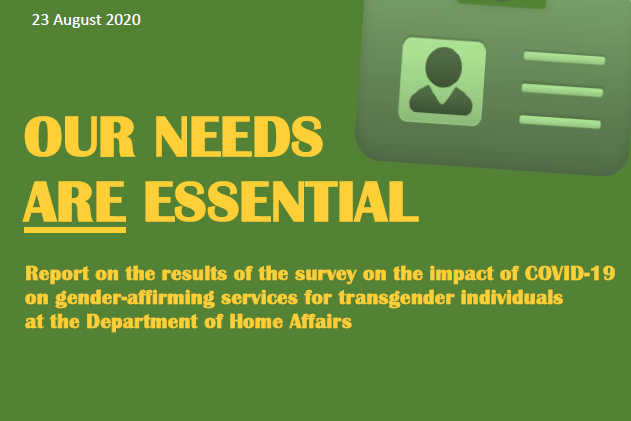 This is a quick update relating to the session we had this morning, 21 September 2020, on where we are at with the DHA. Most of the attending parties are in agreement that while we must still see what tangible actions are going to come of the meeting, we are gently optimistic that we are on a good track with the department.
Minister Motsoaledi was very candid about the many issues and shortcomings within the DHA and affirmed his commitment to improve services for all South Africans – the trans community included. He noted that he has already put options for non-binary ID number systems through to Cabinet, and expressed tentative support for the need to amend Act 49 of 2003, but was upfront about these being lengthy processes and debates that will need to be carried out, alongside many of the other issues we had discussed in our planning meetings.
In the short term, there is commitment from DHA to begin drafting a set of Standard Operating Procedures (SOP) to ensure that service provision under Act 49 is followed and implemented in a standard way nationwide – the draft will be sent to us for inputs. DHA has also expressed a willingness to train and sensitise DHA staff to ensure more branches have staff who can properly process such applications – once the SOP has been finalised.
We will be receiving the details of the Director of Amendments from DHA – this will be the go-to person should amendments take longer than the prescribed 6 to 8 weeks. However, in the more immediate term, we have been asked to send details to the Director General, Jackson McKay, of persons who have been waiting longer than 8 weeks for gender-marker or name change (to which we would add, persons waiting for confirmation letters). If you know of any such individuals, please do contact us via the survey.
Attached (and below) please find the joint statement written by DHA and agreed to by those present, affirming the Minister's commitment to keep working on these issues.
---
JOINT MEDIA STATEMENT OF HOME AFFAIRS MINISTER DR AARON MOTSOALEDI AND THE TRANS ACTIVIST COALITION
21 September 2020
The Minister of Home Affairs Dr Aaron Motsoaledi and Trans Activist Coalition today held a first and fruitful meeting in Pretoria in which the parties discussed various matters of mutual interest.
The Trans Activist Coalition included representatives of Iranti, Gender DynamiX, Be True 2 Me, Triangle Project, Same Love Toti, Access Chapter 2, Transgender and Intersex Africa, Matimba, Women's Legal Centre, the Legal Resources Centre and Transhope.
The meeting is part of the Minister's commitment to engage constructively with all stakeholders in order to improve service delivery and development of policies.
The issues discussed by the parties are:
4.1 Systematic delays in dealing with amendments of particulars of trans persons;
4.2 Effective communication between the two parties;
4.3 Official Identity Management and Marriage Policies;
4.4 International trends in dealing with trans persons;
4.5 Amendments to the Alteration of Sex Description and Sex Status Act 49 of 2003.
The parties committed to working together to address the systematic delays and training of Department of Home Affairs staff in order to meet the ever changing environment of trans persons.
The Trans Activist Coalition committed to making contribution to the Official Identity Management, Marriage Policies and Standard Operating Procedures once they are published for public comments.
The parties committed themselves to draw valuable lessons from new international trends in matters relating to trans persons.
The parties agreed to further engagements, as dictated to by the circumstances, to deal with matters of mutual interest.
Dr Aaron Motsoaledi, MP
Minister of Home Affairs
Dr Aaron Motsoaledi, MP
Minister of Home Affairs